Masters almost every task
Each day brings new challenges, which call for quick and professional solutions. With the Caddy Delivery Van you have a vehicle that provides the best support in virtually every situation. Functional, flexible and versatile, the manoeuvrable and compact light delivery van offers you everything you need to convey a professional image to your customers.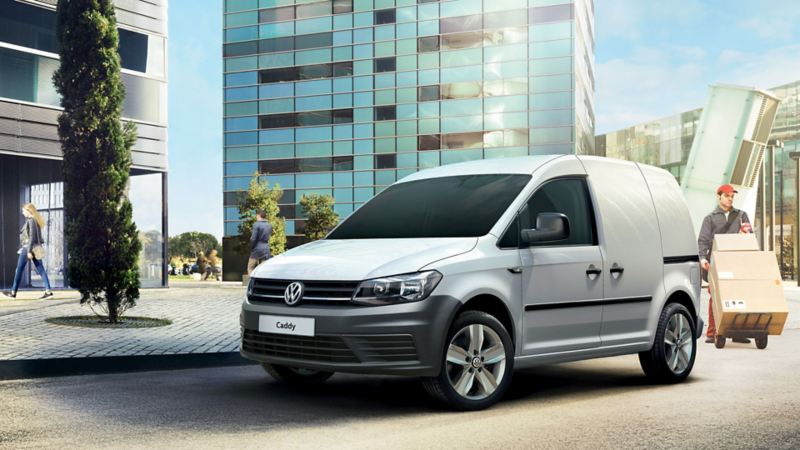 Convenience

Learn more about how this Volkswagen is specifically designed to adapt to your every day.
Comfort
Discover how this Volkswagen can drive you beyond your comfort zone without ever compromising on elegance.
Safety

Learn more about the most innovative and intuitive electronic safety features that come standard.
Ideally organise your daily work
The Caddy Delivery Van features a variety of different storage areas, so that you can concentrate on the important aspects of your work. Whether work gloves, folding rules or a lunchbox – everything has its own place here.
In your job, every move has to be exactly right. The Caddy Delivery Van and the Caddy Kombi offer you the support you need, with a storage system made up of several storage compartments and surfaces of varying sizes. Take, for instance, the roof shelf, which extends across the full width of the vehicle, and opens directly above the driver and front passenger seats. Invisible from outside, it offers sufficient space for work gloves, a folding rule or a lunchbox. The storage pockets in the doors can hold a 1 l bottle each, while the centre console is equipped with four cup holders. For the first time, two open glove compartments are also included. This keeps everything in the right place.
Storage package. This includes a lockable glove compartment, a closable storage drawer cover, storage compartments under both front seats, and a luggage net attached to the roof pillar.
Enjoy a comfortable working climate
Modern air conditioning systems adjust the interior temperature in a matter of moments and also provide cool air on hot days. The seat heating integrated into the front seats delivers warm comfort on cold days. In addition, the heated windscreen guarantees good visibility in any weather.
"Air Care Climatronic" air conditioning.
This system offers 2-zone temperature control for the driver and front passenger. It recognises the intensity of the sun's rays and the outside temperature, and adds more or less cool air accordingly. The automatic air recirculation function and air quality sensor create a pleasant interior climate. The coating of the new allergen filter also keeps out substances such as pollen and spores which any trigger allergies.
Air conditioning.
The semi-automatic air conditioning has an infinite adjustment, so that a pleasant interior temperature can be ensured at all times. Thanks to ergonomic buttons and knobs, the temperature in degrees, air distribution, and fan speed can be easily regulated while driving.
Front windscreen heating.
The heated wires integrated in the windscreen ensure a clear view ahead, even in damp and cold weather. The heated windscreen is only available in conjunction with the Light & Sight package.